Learn More About Knocked
Like a vitamin, but for better sleep. Improve sleep quality—naturally.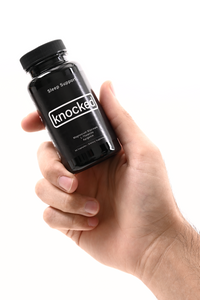 No Melatonin, Just Science
Science-Backed Ingredients, Safe for Daily Use
Knocked is safe to use every day. We've done the research, so you don't have to. We use natural mineral and herb based ingredients that have high safety margins and are non-habit forming.
Supports Your Circadian Rhythm
Knocked is naturally effective. Our ingredients and behavioral sleep tools are proven to support your body's natural sleep processes by easing your nervous system and promoting a state of relaxation.
No More Groggy Mornings
Knocked is melatonin-free. Studies show long-term melatonin use results in hormone imbalances that make it more difficult for you to achieve natural, high-quality sleep.